I made this little coloring book a few years back-wanting to teach numbers to the kids through stories of Christ.  We recently printed off the book again and I was reminded of the gift of Scripture-how God's Word can even teach math.
I'm no professional artist, the pictures are simple but it's His stories that make this little book worth printing.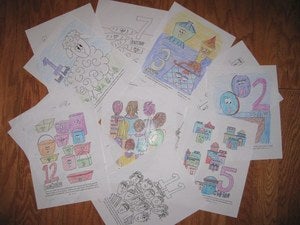 If you'd like a little springtime activity for young kids at the breakfast table or in late afternoon, it's yours free.  We've enjoyed cutting out the objects, lining them up for counting, re-telling the stories and doing simple subtraction and addition (12 disciples minus 1 Judas equals 11; or 10 healed lepers minus 1 equals 9)
Go here to print free of charge (minus the time it takes to download and work its way through your printer).
We're praying today for the Dominican Republic.  Join us and wonder at how He'll do the math and make a way for these people to come to Him.