You'd never know I studied Accounting and Math in college when you see the way I make the credits and debits balance in this house.  I do as Jen Hatmaker does: I nickel and dime us to death.  It's not the big purchases that run up the credits, but the little ones.  The 'oh look, this is on sale,' or the 'I really think we need at least two of these,' or the 'this sure would make today a little easier' purchases.  And before I know it, the 1′s and 5′s and 10′s all pile up into 100′s and 1000′s.  Before I know it, I can find myself with a storehouse of treasure that thieves can break in and steal.  Things.  These are things that can be burnt up in a moment by a Colorado wildfire.
A few years back, I read how Rachel at Small Notebook had a no spend month.  She set an amount and stuck to it for all 31 days.  I read that and thought, 'What a cute idea.  I don't need to do that, I'll just spend less every month.'  But here I am, years later, still spending not less, not even the same, but even more than I was back then.  I can't help feeling a little spent myself.
So, this coming month, this July, I'm praying for help to have my own no spend month.  I'm praying to spend $300 total on gas and groceries and discretionary items, no more.  This doesn't include rent, utilities, phone or internet.
The point is not necessarily spending less but giving more.  My prayer is that at the end of the month, we'll have much more to give away-to missionaries we support, special projects we care about, to people we should love with more than just words.
I'd love to take this journey with some friends.  So, do you have any interest in joining me?  July seems like a great month to try it.  Local produce is delicious and priced lower than usual.  The weather is great and hot so there is plenty to do outside.  And the library is practically begging us all to come for a visit and check out more of their free books.
This is a small thing.  Perhaps it's even laughable.  Only $300?  How many in the world will never even know the feeling of $300 in their pocket to spend?  But it's a start, a first step, and this coming month, I'm going to take it.  Would you like to do this small thing too?
For where your treasure is, there your heart will be also. Matthew 6:21
Resources:
I'm using this plan from Stephanie at Keeper of the Home as a rough guide for my grocery shopping.  She's outlined a plan to spend only $250 on local and organic foods for one month.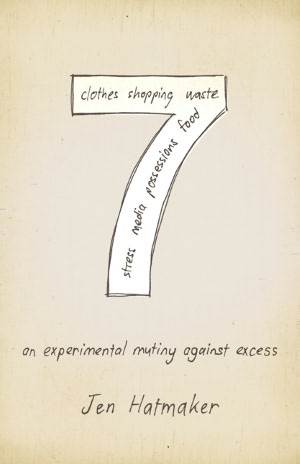 I just finished reading this hilarious, encouraging and challenging book by Jen Hatmaker-7.   The author spends seven months letting go of the excesses in life and grabbing on to the abundant life in Christ.  She eats only seven foods for one month, spends money in only seven places for another, and gives away seven possessions a day for another 30 days.
60 Days of Prayer
Would you do one more small thing and pray today for the country of Vietnam?  Watch the beautiful faces of these children on the video and ask that God would spend His grace and mercy on this country where so many have yet to hear the Gospel.
Related posts:
Related posts brought to you by Yet Another Related Posts Plugin.