You're sorry?   For what?
Come closer, I still can't hear you.
What's that?  You stuck your tongue out at me?  (I'm pretending to be surprised after overhearing Daddy send you upstairs to apologize.)
Hmmm, well, why in the world would you stick your tongue out at me after I'd turned around?  I would've liked to have seen it.  Will you stick it out now while I'm watching?
I'd like to see what you look like with your tongue sticking out, it's probably pretty funny.  
Oh wow, you do look funny.  So, were you doing that to be silly?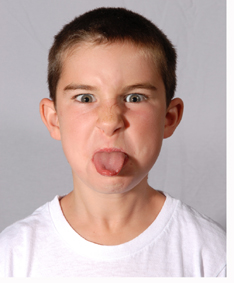 Oh? You did it because you were mad at me?  Because you wanted to be mean?
Oh, well that's an entirely different story, isn't it?
I have to tell you, sweetie, being mean to your Mama is about one of the most foolish things you can do. 
You want me to tell you why?
Well, you might think it's because I'll get really mad at you.  And sometimes, I'm sad to say, I may get mad.
But that's not the real reason you shouldn't show me dishonor.
Or maybe it's because I'm older and I know all the answers.  I am obviously older-you told me just the other day that my teeth were yellow and I had a new wrinkle in my forehead.  And the truth is, I may know a few more things than you do.
But that's really not the best reason to restrain yourself from disrespecting me.
Or maybe you should be kind to me because of all the good stuff I've done for you.  Truthfully, I often want you to respect me because of all that I feel like I've given to you.  But a gift is just that.
And all that I give you-my time, my energy, my schedule, my days-are only gifts to you if I give them freely without expecting much, if anything, in return.
None of these are reason enough to keep that tongue inside your cute little mouth and happily say, 'Yes, M'am.'
Can you guess the reason?
It's right here in the 10 commandments, remember those?
Do you know there's only one commandment that comes with a promise?
For those who don't murder, he doesn't promise they won't be murdered.  For those who don't lie, God doesn't promise they won't ever be deceived.  For those who don't steal, there's no promise that their stuff will never be taken.
But God does make a promise to children, children who honor their parents.
God promises that it will go well for them, that they'll enjoy life.
He promises blessing.
Can you believe it?
You're only 5 and God's already made you a promise.
Sweetie, I have to tell you something.  I don't know everything. (I know this comes as a surprise) I'm going to make a bunch of mistakes with you.  And sometimes I'm going to make the wrong decision, sometimes I'm going to tell you 'no' when I should've said, 'yes.'  Sometimes I'm going to misstep.
But, you know, you can always know the right way to step even when I fail you.  God's promise is for you, no matter what I do.  His promise of blessing and good for you is always right here below your feet ready for you to pick up.
Every time you choose your response to me-to listen or to ignore, to be happy or to be mad, to say, 'Yes' or 'No,' to do it right away or to hesitate-every reaction to me is really a reaction to God's command.
It's always your choice, whether you want the good God offers or not-even if I've made a mistake.
I'm sorry I disappointed you.  I'm praying everyday for more of Christ's grace so that I can be the best Mommy possible.  But chances are, there are more mistakes ahead.
So, I'm praying for Christ's grace for you too. You know, Christ: He was God Himself and yet He always honored his mother Mary and earthly daddy Joseph.  After He died for all our missteps and rose from that tomb, He promised that He'd send His Spirit to all those who ask.
And it's only His Spirit in you that will make it possible for you to keep that tongue in your mouth and to be happy even when I've disappointed you.
You know?  You really didn't need to get just what you want…You really just need just what I need, too-more of Jesus.  Let's pray He comes and saves us both so that we can take hold of all His promises together.
Children, obey your parents in the Lord, for this is right. "Honor your father and mother"—which is the first commandment with a promise—  "so that it may go well with you and that you may enjoy long life on the earth."
  Ephesians 6:1
Full disclosure: This did actually happen in my house-the tongue did stick out right in my direction.  And I did attempt this conversation.  We made it to the part where I started explaining how I would make mistakes and she said she was ready to take a bath.  But, I'm sure we'll have many more opportunities to finish the conversation!